2007/07/22
Absurdly Personal - Of Rovers and Redemption
Tammy Faye Messner, the weepy, over-the-top televangelist we all remember from the eighties
passed away Friday at the age of 65
, and on hearing the news I tried to summon up some shred of sorrow. I mean I know that in the intervening years, through the incarceration of her first and second husbands, the collapse of the Bakker media empire, and her battle with colon cancer she's become a better person. But still I was coming up empty.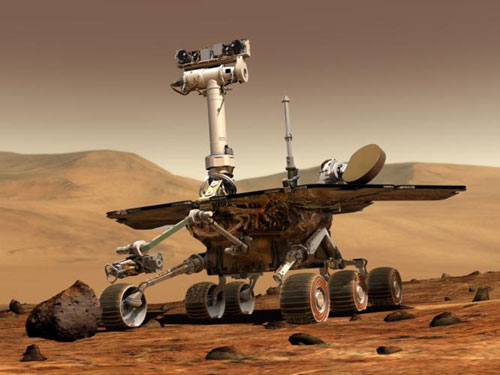 Meanwhile, on Mars, the greatest, most astounding scientific endeavor in human history could be coming to an end as
a continent sized sandstorm starves the two mars rovers, Spirit and Opportunity, of vital solar energy
. And lest anyone underestimate the importance of the little scientific packages that really, Really, REALLY! could, these machines have been up on mars doing their jobs for 10 times their original operational lifetime!
The scientists at JPL deserve medals
.
So here's the thing... I am more saddened by the imminent end of the rover mission than I am by the death of someone who, I think, really did try to redeem herself, and I'm having a hard time figuring out what that means.
28 Comments:
I am not saddened by her death, however, I am saddened that we have troops dying for a lie!
Kvatch, "infamy" adds a whole other dimension.
Upon her passing, my wife said, "She suffered a lot.", to which I replied,"Yes, and she caused a lot of suffering in other people's lives."
PT... Undoubtedly true, but I think that in her last decade she helped more than she hurt. Of course, as Lew put it so succinctly, it just don't stack up to the blow to science of losing the rovers. ;-)
She was a professional lab rat for the cosmetics industry?
Couldn't agree with you more, on both counts. If we could find a way to send Tammy Faye to Mars so she could be in that dust storm maybe it would keep her mascara from running. I do not have a single ounce of respect for her, her husband or any of those charlatans. They're evil. But those little rovers are good good good.
I know what you mean. I can't feel anything for Tammy. She may be dead, but I bet her eye lashes live on. You can't kill anything covered by that many layers of mascara.
I can't say Tammy Faye was genuinely kind but she seemed to genuinely believe in her own kindness. Bottom line for me, she was a liar and a thief who preached lies and myths.
Okay, here's my pseudo-analysis. You cared about the two Mar's rovers because they enriched your life with knowledge and understanding. On the other hand, Tammy Faye represented dishonesty and corruption. She may have redeemed herself later on, but she will always represent a person who indulged in excess and abused people's trust.
Links to this post: