2006/10/28
Security Theater - Feeling Safe vs. Being Safe
While the US government
forces our allies to jump on the RFID passport bandwagon
, making us demonstrably less private and arguably less safe, a graduate student and computer security specialist at Indiana University Bloomington demonstrates the easiest way for bad guys to slip past TSA and onto an aircraft.
Can you guess? He created a program and a website that produces fake boarding passes, identical to the real thing--good enough, in fact, to get you by TSA, though maybe not actually onto an airplane -
I don't want to help terrorists or help bad guys do bad things on airplanes, but what we have now is what we in the industry call 'security theater.' It's made to make you think you're secure without actually making you secure...



Christopher Soghoian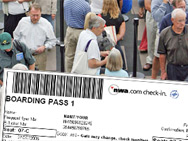 Unfortunately for Mr. Soghoian (and for us) the government has taken a dim view of this demonstration. Representative Edward Markey (D MA), a senior member of the Homeland Security Committee who would
rather shoot the messenger
than deal with the vulnerability, has called for Soghoian's arrest. And the FBI seems willing to comply,
raiding Soghoian's home twice in 48 hours
. Oddly though, nobody is calling for the arrest of Senator Charles Schumer (D NY),
who suggested this very scenario over a year ago
or any of the airline executives whose companies
do
let you print your boarding passes ahead of time.
Predictably, the homeland security establishment seems more interested in covering their asses by silencing the sane voices of experts than they are in actually making us more safe.
Had enough yet?
16 Comments:
As one who makes a couple trips a year or more, to California, I can tell you airport security is one big F****** joke! When they were in the "take off your shoes" craze, I used to wear a pair of socks for about three days until they were really ripe, bag them in a ziplock, then don them for the trip. My wife made me quit doing that, but I damn sure passed some shoe inspections in record times!:) Time after time after time, sneak inspections continue to get just as many guns, knives, etc. through security as before 9/11. "If you make it harder for them, they will think we're doing something good."
This all seems like too much trouble to me. We all saw the CNN report on the .50BMG. Who needs bording passes, why even go within a mile of the airport?
The only thing I take from this article is that I've been wasting my money collecting "frequent flyer miles," when all I had to do was invest in a decent printer!
The illusion of safety is all that matters to these folks. Apparently, we also only have the illusion of liberty and the illusion of freedom as well.
I saw that fake boarding pass article too. The illusion of safety is a lot like the snake oils the carbet baggers used to foist on the settlers as we moved west two centuries ago....and the folks who sell us the pseudosafetey are not remotely better.
They don't like it when we demonstrate their weaknesses. You'd think they would be glad to know about them, but then we are talking about the Gee Oh Pee.
So while we're all on the subject of illusions... Any chance that the wars in Afghanistan and Iraq are just illusions? No? We really did spend that 1/2 a trillion dollars? Crap! Guess we couldn't get that lucky.
That student embarassed the TSA, which explains the government's severe reaction. They should be thanking him for bringing it to their attention but they're more worried about their image than our safety.
This shouldn't be surprising. This story just makes the obvious even more obvious: It's all smoke and mirrors. Appearances are all that matter.
Links to this post: